Guidance and policies about SEN and disability
Links to national and local guidance and policies for professionals and parents.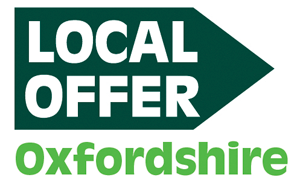 Local guidance and policies
Identifying and supporting special educational needs (SEN Support)
We have produced guidance for schools, Oxfordshire SEN Guidance for Schools (doc format, 1.2Mb) and early years providers, Oxfordshire SEN Guidance for Early Years Foundation Stage (doc format, 1.2Mb) on identifying and supporting children and young people with special educational needs.
They set out:
a clear and consistent approach to identifying when a child or young person has special educational needs and how to support them to achieve good outcomes.
how parents, children and young people should be involved and how they can contribute to decision making.
expectations of what schools and settings will put in place for the funding that they receive.
They include an introduction for parents, a detailed glossary of words and acronyms that you may come across and guidance about good practice when holding a review meeting.
The Government has committed capital funding to help local authorities create new school places and improve existing facilities for children and young people with Special Educational Needs and Disabilities (SEND). In March 2017 the Department for Education (DfE) announced the Special Provision Fund (SPF) with £215m of capital funding for 2018 to 2021. In May 2018 a further £50m was announced and in December 2018, a further £100m.
The formula for the allocating this funding to local authorities was based principally on projected numbers for children and young people age 2-18 between the years 2018/19 and 2020/21. Oxfordshire's share of the Special Provision Fund will be paid to the County Council between 2018 and 2020.
| SPF funding announcement  | National SPF Programme  | Oxfordshire allocation  |
| --- | --- | --- |
| March 2017 | £215m | £2,454,465 |
| May 2018 | £50m | £570,806 |
| December 2018 | £100m | £1,141,612 |
| Total | £365m | £4,166,883 |
Before receiving the first allocation of SPF grant all local authorities were required to:
1. Work with education providers to agree how the capital funding can best be targeted.
Oxfordshire County Council established a High Needs Review Steering Group to review the provision for children and young people with SEND. This Steering Group included representatives from the county's special and mainstream schools and was one key mechanism through which education providers were consulted. Through working with the Steering Group, as well as directly with schools, a draft plan for how this funding would be invested was developed.
2. Consult with parents and carers of children with SEN and disabilities and young people with SEN and disabilities.
An open consultation was held between 25 January and 22 February 2018 to allow all those with an interest in provision for children and young people with SEND to feed back their views on the proposed plan
3. Publish a plan on their local offer page showing how they intend to invest their funding.
To qualify for the funding, the DfE provided a template plan to be completed and publish by the local authority no later than 14 March 2018.  Subsequent funding announcements have required that this plan be updated.
Proposals for utilising the Special Provision Fund allocation in Oxfordshire were approved by the Cabinet Member for Public Health and Education at the delegated decisions meeting held 7 March 2018. Read the cabinet report.
In December 2018 Cabinet approved Oxfordshire County Council's strategy to deliver sufficient SEND provision, Special Educational Needs and Disabilities Sufficiency of Places Strategy (pdf format, 984kb).  This strategy focuses on the five-year period 2018-2022 and also looks beyond to the following five-year period to 2027. Progress against the strategy will be reviewed annually and the strategy updated as required.
A copy of the council's Oxfordshire's published plan for investing the SPF grant includes details of all the Council's capital investment proposals to increase the provision of school places for children with SEND between 2017/18 – 2020/21.
The plan has been updated to reflect the council's adopted Special Educational Needs and Disability Sufficiency of Places Strategy and the additional SPF capital allocations announced by the Government since the programme was first launched. The plan also includes details other capital investment being provided by the council.
The investment proposals are in chronological order with the Special Provision Fund proposals towards the bottom of the list.
National guidance
Help and information
Contact us
Contact the Special Needs and Disability - The Local Offer team
Impartial free advice and support - education
The special educational needs and disability information advice and support service (SENDIASS) offers impartial information, advice and support to parents of children and young people with SEN and disabilities regarding their education. You can get in touch by completing this online form.
The service aims to help parents, carers, young people and educational professionals to work together to provide the best possible support to children and young people with special educational needs, by:
Finding support for parents/carers on your doorstep
Search for organisations and groups to support parents and carers of disabled children and young people and those with SEN and additional needs.
Enter a postcode or place name:
Help us improve our information
Does our local offer information help you? Use this online form to let us know if you feel our web pages could be improved or you need help finding out about something.