A4260/A4165 Kidlington Roundabout
What you can expect
This scheme will include the following key construction elements:
New dedicated bus lanes on the Bicester Road (southbound) linking with the bus lane on the eastern section of Kidlington Roundabout and a revised arrangement on the Oxford Road
New signalised crossing facilities on Bicester Road, Oxford Road south and Frieze Way
Reduced speed limits to 30mph on the roundabout and its approaches (additional changes, including along the remaining length of A4260 north of the roundabout, and on Banbury Road south of the roundabout toward Oxford are also being proposed alongside the main scheme)
A new 3.5m wide shared use pedestrian and cycle path to connect to existing infrastructure
Improve street and footpath lighting
Additional traffic lanes on the Kidlington Roundabout circulatory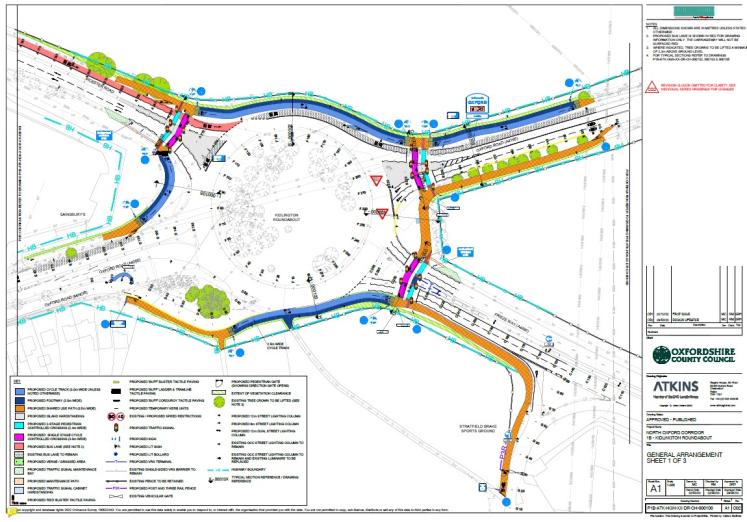 This General Arrangement Plan shows the proposed layout of the improvements on the Kidlington Roundabout. You can view the plan in more detail by clicking on the PDF on the right-hand side of this page.
Construction is expected to start in autumn/winter 2022. Traffic management arrangements will be provided closer to the time.
We recently presented our proposals for improving the A4260/A4165 Kidlington Roundabout as part of a statutory consultation between 30 June and 12 August 2022.
All comments received will be taken into account and any changes made as a result of the consultation comments will follow due process.
A report will be presented to the Cabinet Member for Travel and Development Strategy who will make the final decision regarding the scheme.