Ascott Park Historical Trail
Ascott Park Historical Trail
Information about an historical trail through Ascott Park, near Stadhampton.
The Ascott Park Historical Trail is a circular walk of about two miles starting from Stadhampton. It takes in the attractive parkland that was once part of the Dormer family estate. The manor house the Dormer family occupied for some 250 years has long since vanished, but many features of historic interest remain. These can be seen on the Trail, which has been designed by the Oxfordshire Buildings Trust in conjunction with Oxfordshire County Council, the owners of Ascott Park.
Walk information
Download the map for information about starting point, directions, parking and refreshments.
A colourful history
The Dormers made their fortune trading in wool. With his new-found wealth Sir Michael Dormer acquired the Ascott estate in 1518. He became Master of the Mercers Company and Lord Mayor of London. His descendants erected a fine Jacobean gateway on the approach to the manor house. This was taken down when the County Council bought the estate in the 1920s and presented to the Victoria and Albert Museum.
Ascott was raided by John Hampden in the Civil War. Soon after the Restoration William Dormer built "a verie noble" new house, but it burnt down before he could move in. The Ascott Park Historical Trail explains the recent excavation that sought to find the site of this house.
William's grandson John badly overstepped the mark. He terrorised his neighbours, killed a man in a duel and finally ran out of money. So although he landscaped the grounds and laid out the gardens he got no further with another new house than the groundworks.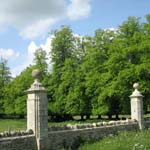 Thereafter the estate went slowly downhill and the park became the farmland you see today. The gate-piers attracted Paul Nash to paint a picture called "Pillar and Moon" now held by the Tate Gallery. These have recently been restored by the County Council.
Buy Ordnance Survey map of route
More ...
Sir Robert Dormer built Rousham House near Steeple Aston, Cherwell, in 1635. This is still owned by his descendants and includes the celebrated gardens designed by William Kent. If you would like to visit, see the Rousham House website for more information.
Related pages
No related pages listed
External links